Located in Dujiangyan, the Chengdu Field Research Center for Giant Pandasis also called Panda Valley. It started to have the giant pandas living there in 2012. At present, the first-stage project of Panda Valley has completed, including three enclosures: No.1 Enclosure,No.2 Enclosure and No.3 Enclosure. In the enclosure, there are indoor and outdoor playgrounds, with pools and climbing frames. And there plant plenty of trees for giant pandas to climb. Now please follow me to see the giant pandas living in the three enclosures.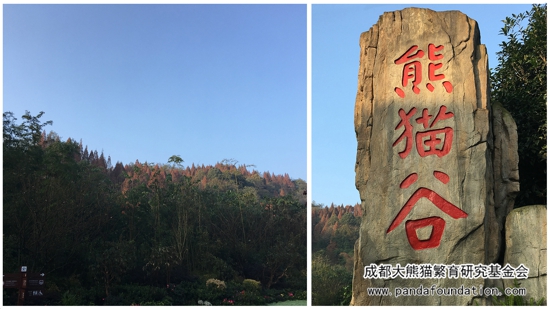 The Scene after Entering the Panda Valley
Walking along the main road, we saw stairs on the left side of the main road. We stepped on the stairs and then there appearedNo.1 Enclosure. There live the popular giant pandas Oreo, Yuan Run and Miao Miao. Born in 2012, they are very close to each other. They always huddle together, so they are always in a mess. So the fans affectionately call them Coal Siblings. The Xiao Yatou family next door shares No.1 Enclosure with them.

Oreo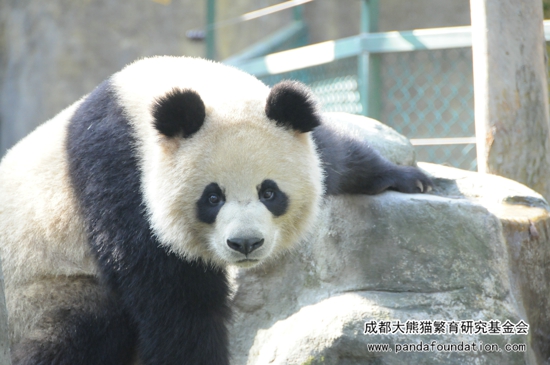 Yuan Run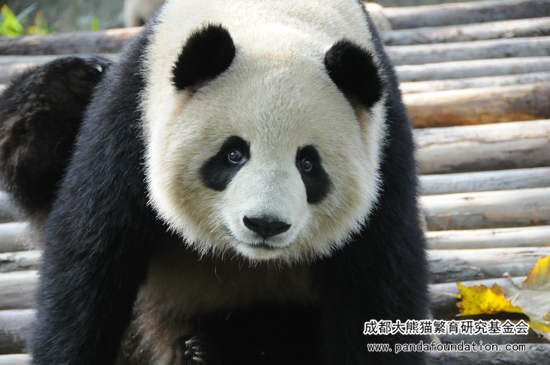 Miao Miao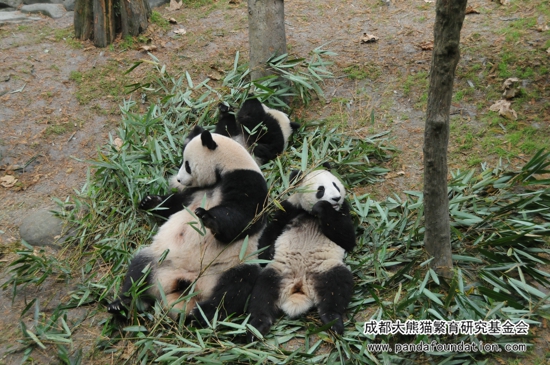 Xiao YatouFamily

Xiao Yatou

Xiao Ya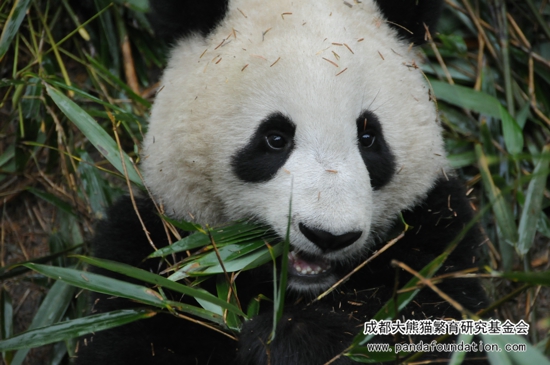 Ni Xiao
We walked on the path alongside No.1 Enclosure, and then came toNo.2 Enclosure. There live two handsome boy pandas De Deand Yuan Lin. De De wasone of the first babies of giant pandasHua Zuiba and Bing Xing who live in Spanish. Since he was born in 2010, De Dehad lived with his twin brother Po in Panda Valley until several days agothey lived separately. From then on, De De began his adult life alone. His younger brother started his journey to Huaian, Jiangsu Province, while De De continued his life in Panda Valley. Yuan Lin is six years old, and like De De, she also lives alone.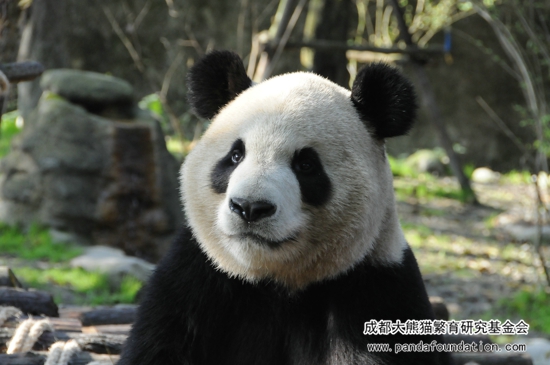 De De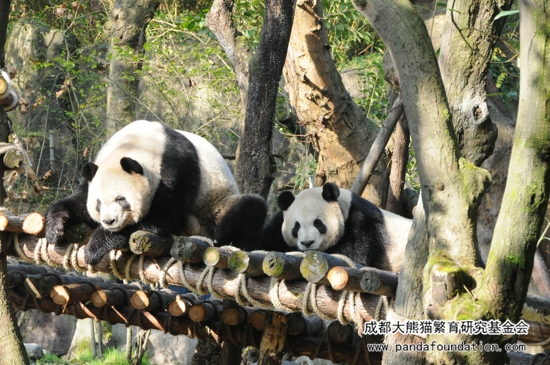 De De and Powere living together then in this picture.

Yuan Lin
Going ahead, we came to No.3 Enclosure which is at the highest place. There are two houses, in which live Ni Ni, Ni Da, and the Xiao Chuan Family and Xing Yu and Xing Yuan, the sister and brother respectively. I did not take photos of Ni Da and Xiao Chuan because they were taking the indoorbehavior training class then. Ni Ni has become a mother, but she still looks like a girl. She enjoys eating, so she becomescute for her chubby body.Butthatcannot prevent her from "destroying the trees". After having enough bamboo leaves, Ni Ni picked a tree and climbed up rapidly. She bit a branch off the tree and played with it.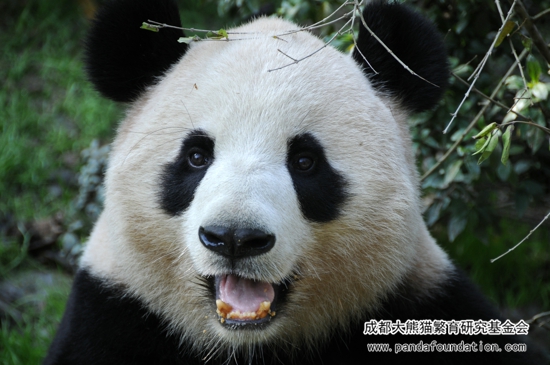 Beautiful Mother Ni Ni

Ni Ni Is Biting the Branch.
Xing Yu and Xing Yuan are the oldest among those who were born in 2014. Many fans watched the two giant panda cubs open their eyes and learn to walk and watched their teeth showed up. They callthe two cubs Yu Dawang and Xing Bayuan. Xing Yu and Xing Yuan are very close to each other. They sit together to eat bamboo leaves and lean against each other to sleep. Xing Yuan sometimes takes advantage of his sister because he is younger. It seems that they are the group composed of a naughty little brother and a pretty and aloof elder sister.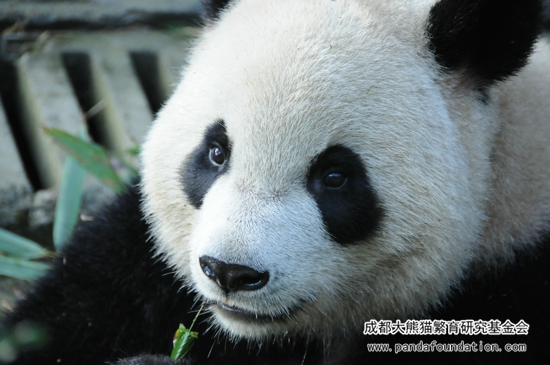 Xing Yu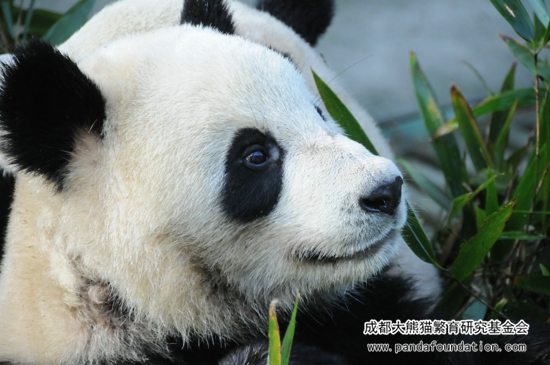 Xing Yuan

The sister and brother sit together and eat bamboo leaves.
The Panda Valley is near the mountain and the river, so there is full of ringing twitter. Dujiangyan Base is the open research center of Chengdu Research Base of Giant Panda Breeding. I hope that all the giant pandas, including Ni Da and Xiao Chuan, who are now taking training classes and Qian Qian and He Sheng who haveleft here and receive the training of next phase, could live a healthy life. I hope they could go back to the real and natural world to live a tranquil and decent life.