In the panda world, there is a giant panda called Miao Miao, who is known as the princess because of its unique personality and delicate shape. But as a "panda princess", its growth story is not as full of castles and princes as our human fairy tales. Today let me tell you a story about the "panda princess".
On Sep. 4, 2012, the giant panda Jiao Zi gave birth to a baby panda that was severely dehydrated. Keepers named her Miao Miao, a pathetic name but full of wishes for her health and growth.(Note: In Chinese, the character "Miao" consists of three "Shui", representing water.)
Her mother Jiao Zi is well known for her frequent participation in most advertisements for public welfare, as the symbol, brand and image of Sichuan Province. The fame also drew much public attention to the birth of Miao Miao. After laboring, Jiao Zi failed to supply breast milk, which is always a fatal attack to all panda babies since it is a major source from which they gain the immune protein, a kind of antibody to ensure their healthy growth, without which, through some babies survived to infancy, death is their end for the most cases. To help Miao Miaosurvive, feeders transferred her to the new mother, Yuan Yuan who has gave birth to a female panda named Yuan Run on Aug. 25, quiet close to the time when Miao Miaowas born. In this way, the nutrition content remained the same as far as possible. The selfless step-mother held Miao Miaoin her arms and took care of her diligently. Thanks to Yuan Yuan, Miao Miaofinally made her stories as a little princess differing from others.
After a time, Miao Miaomoved to the Sunshine Delivery House, where she admitted another two pandas as her "godmother", including Cheng Ji, famous for her vixenish personality and value on cleanliness. Under her instruction, Miao Miaodeveloped the habit of "bathing" that as a little child, she often sat by the pool, listening to birds and wind leisurely.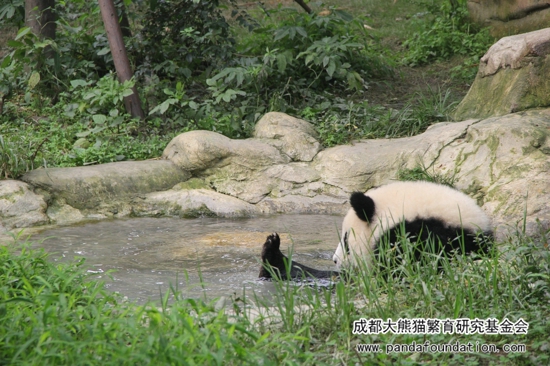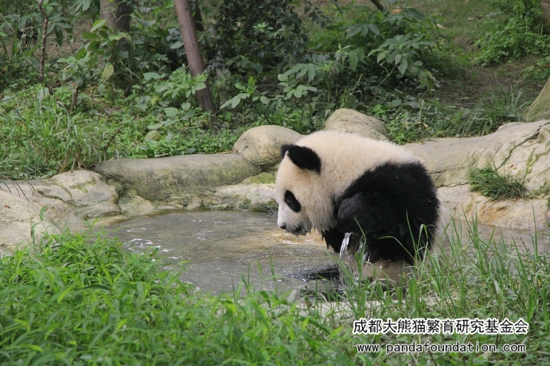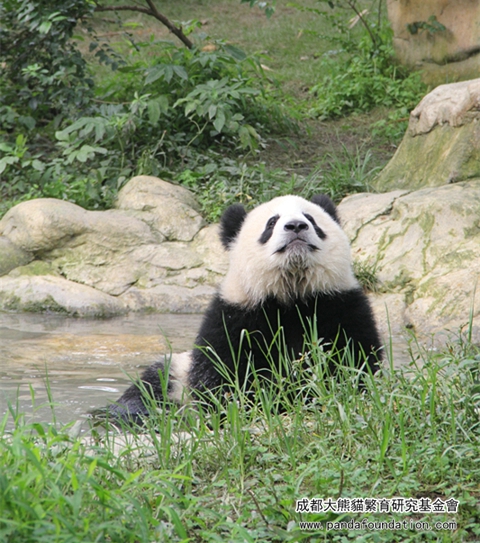 Miao Miaoenjoying the bath
The second godmother is Li Li, the mother of Oreo. Li Li is very gentle and kind to her adopted daughter. Years of unstable life with different mothers, Miao Miao is very sensitive. During her days with Li Li and Oreo, she often went away and stayed alone so that the biologic mother and son would have more time to be together.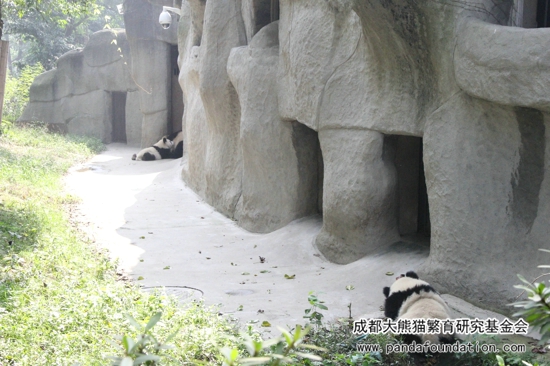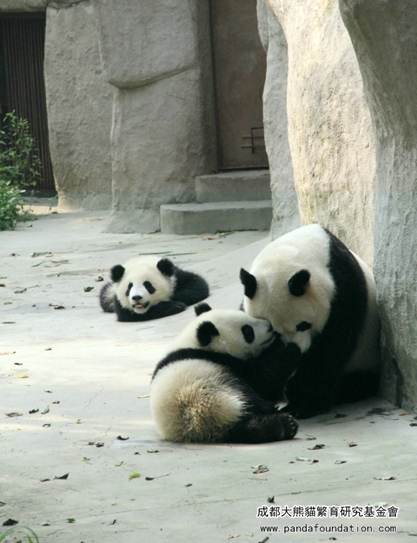 Miao Miaostays alone when Oreois playing with Li Li
But panda mother's love is selfless, even if the child is not her own. Seeing how Miao Miaobehaved, Li Li tried to get close to her, holding her in arms and playing with together. Gradually, they two established a closer relationship and their interactions have touched so many fans following them that they called Miao Miaothe "Little Lammy"of Li Li.

Li Li loves Miao Miaoso much (from @menglian_sky oniPanda)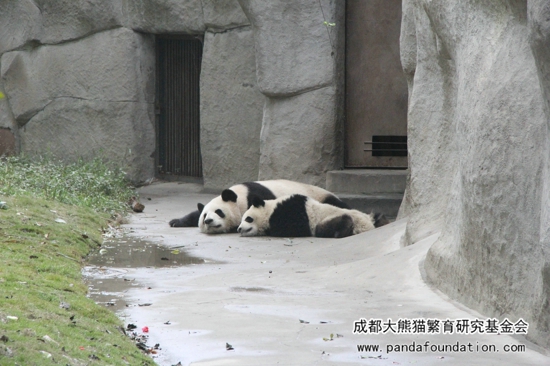 A nap together

Family time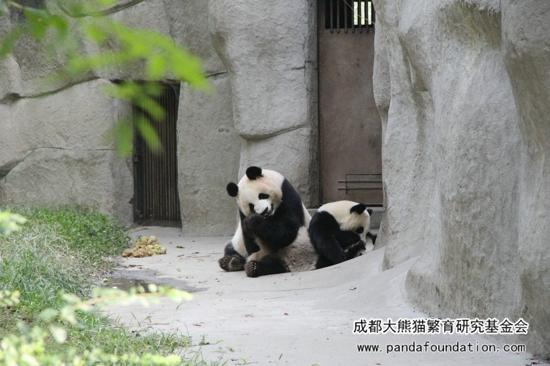 Miao Miaoenjoys massage by Li Li andOreo
Cares and love of "godmothers" finally made up for the absence of life with the biological mother. Now Miao Miaohas grown up to be a "princess" instead of the sensitive "Little Cabbage".

One-year-old Miao Miaois good at climbing. She often hang high in a tree she loves and sleeps peacefully in the wind.
After graduating from "Panda Kindergarten" of the Sunshine Delivery House, Li Li moved to the Giant Panda Cub Enclosure with Miao Miaoand other pandas, where they often sat around Li Li, enjoying abundant varieties of bamboos.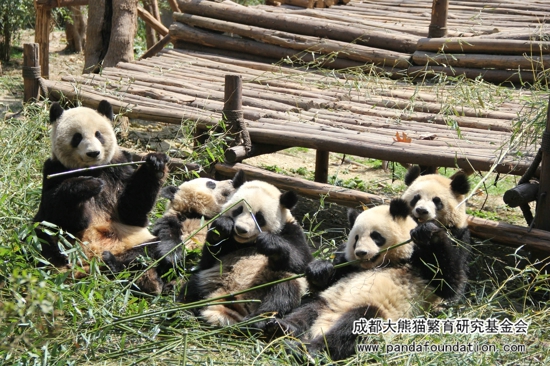 Mother Li Li and children
Days went away. It's time to say goodbye to the mother. Babies felt somehow uncomfortable without Li Li's milk and care in the first few days. Miao Miaowas very nervous with two new partners, Si Yi and Xiao Qiao that she refused to eat or drink for days. Fans worried about her a lot. Fortunately, with the good care of the keeper Tan, Miao Miaohas made through the tough time. Our little princess came back again.

Princess Miao Miao staring at the apple in her brother's hand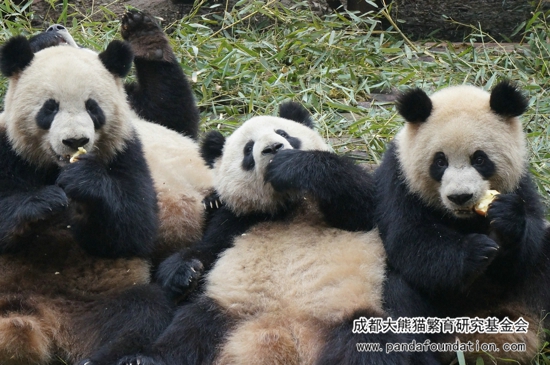 Staying with friends without worry
During her life in the Cub Enclosure, Miao Miaoully showed her unique personality as a "famous princess". When eating bamboos with friends, everyone sits normally except Miao Miao, who chooses to lie down like an imperial concubine. And when it is time to go home, everyone follows the keeper's order, but only the little princess remains stagnant that the keeper has to try every means possible. The keeper and the fans call her the true princess of the Jiao's family. The queer Miao Miaomakes people love her more.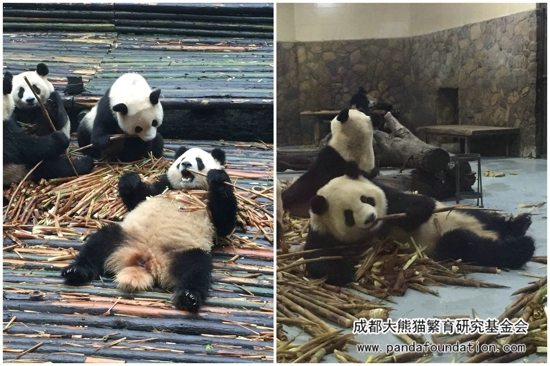 Miao Miaoenjoys bamboos while lying like an imperial concubine with belly exposed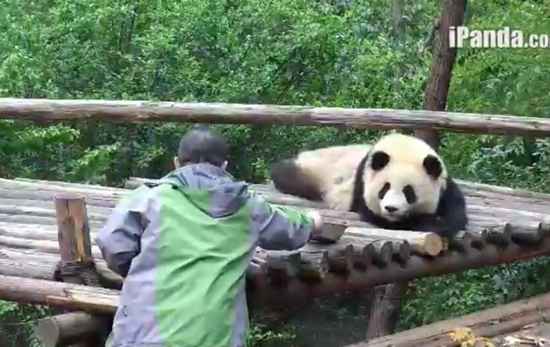 The keeper is trying to "persuade" Miao Miaoto go back home (from @Yuan Gun Gun_FenDouinng on iPanda)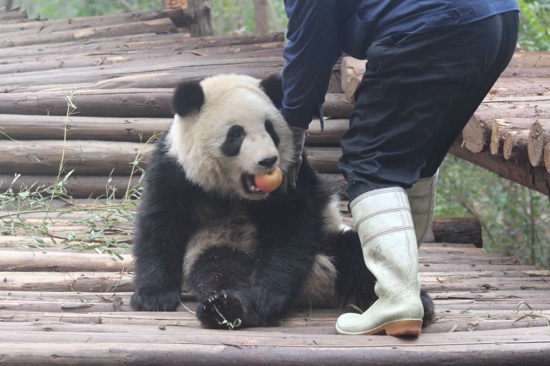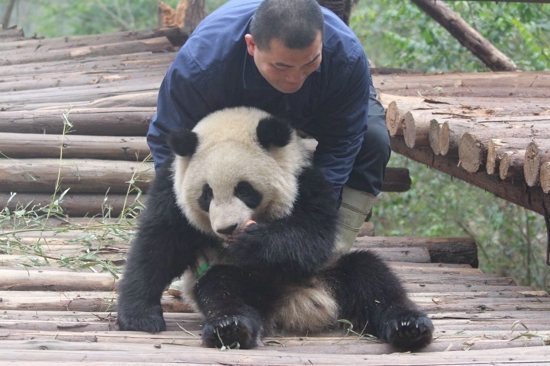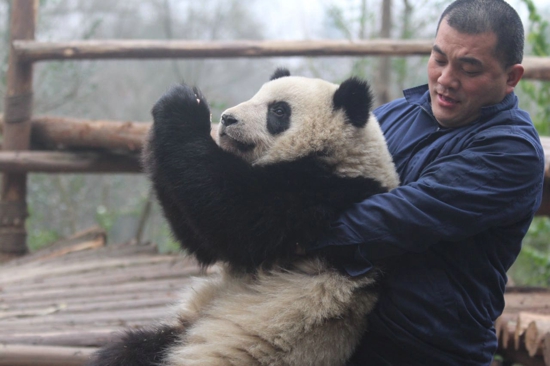 With apple and milk, finally Miao Miaogoes back home (from @Mie_ZaiZai)
Time flies. At 3, Miao Miaoleft the keeper Tan and the Cub Enclosure. She moved to the No. 2 Giant Panda Enclosure with other cubs, where they stayed for a few months and saw off the twins Cheng Shuang and Cheng Dui and the childhood sweethearts Xiao Qiao and Si Yi before going to the new home, the Chengdu Field Research Center for Giant Pandas (or the "Panda Valley" in short), in Dujiangyan.
In the panda valley, Oreo and Yuan Run still behaved like a brother and sister in respect to Miao Miao. When summer came, Miao Miaooften held the best position around the water basin for several hours only to cool herself. There's nothing Oreo and Yuan Run can do but line up to wait for their turn.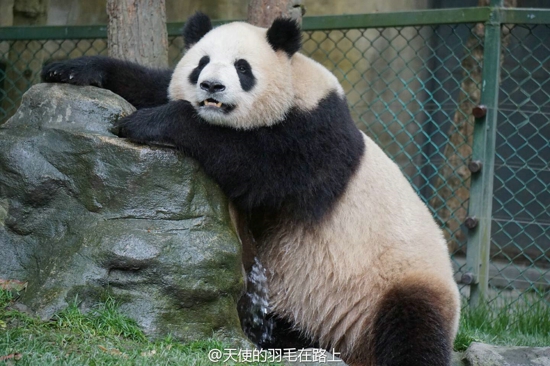 Miao Miao, "cool water, cool life…" (From @Tian Shi De Yu Mao Zai Lu Shang)

Oreo and Yuan Run line up for the basin (From @Tian Shi De Yu Mao Zai Lu Shang)
In Miao Miao's 4th birthday party, a large number of fans came to celebrate her birthday that day and her keeper prepared an iced "apple birthday cake" for her. At such a grant occasion, the experienced Miao Miaostill behaved easily.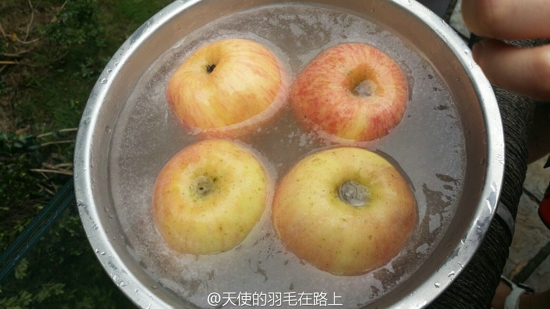 Though the cake is simply designed, it is meaningful (From @Tian Shi De Yu Mao Zai Lu Shang)

Fans outside the playground also prepared a birthday cake for her but Miao Miaohad no chance to have a taste of it! (From @Tian Shi De Yu Mao Zai Lu Shang)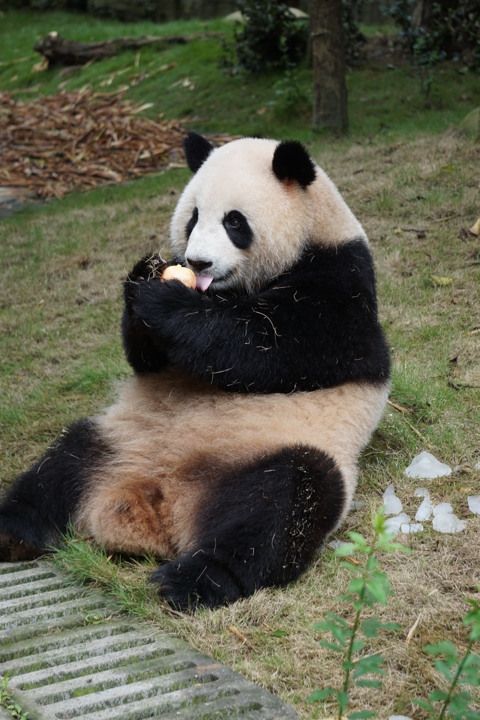 Miao Miao enjoying the apple

Lying down again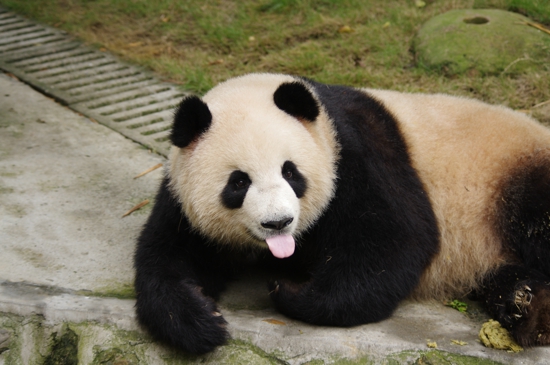 Welfare time for fans (from @Ao Pang Xi Shang Hong Ling Jin)

But on Miao Miao's way to be a "princess", the warmth of mothers, companion of little fellows, care of keepers and love of fans will leave a striking mark on her life. We wish that Miao Miaowould continue to be herself in the future days, without any worry.