Giant panda "Kelin" gave birth to a pair twins (both female) at around a.m. 5:10, June 22, 2015 at Chengdu Research Base of Giant Panda Breeding. The labor lasted about 2 hours. After the labor, Kelin felt so strong to be a mother and even tried to hold her daughters in her arms. The two cubs are in good shape right now. The bigger one weighs 118g, and smaller one 70g. They drink about 1 ml of milk each time they nurse.

The twin cubs, both female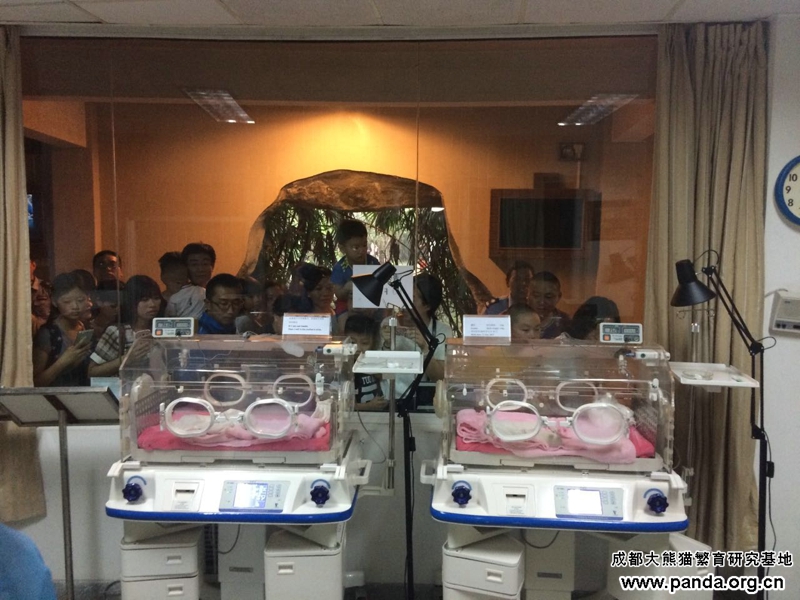 The twin cubs, both female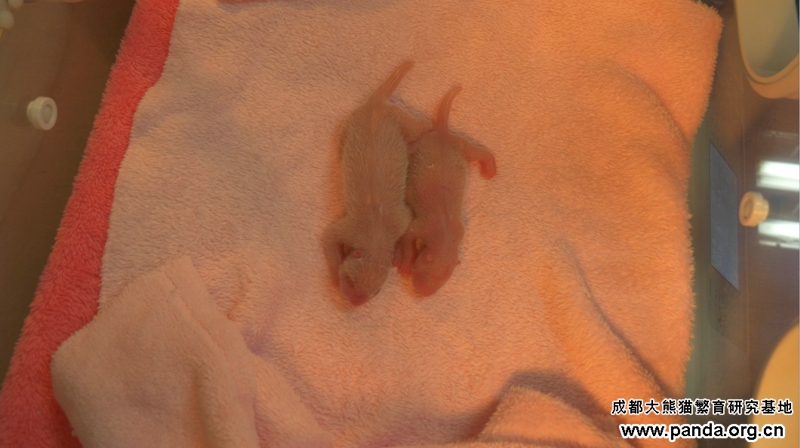 The female twin panda cubs (Left: 118 grams, right: 70 grams)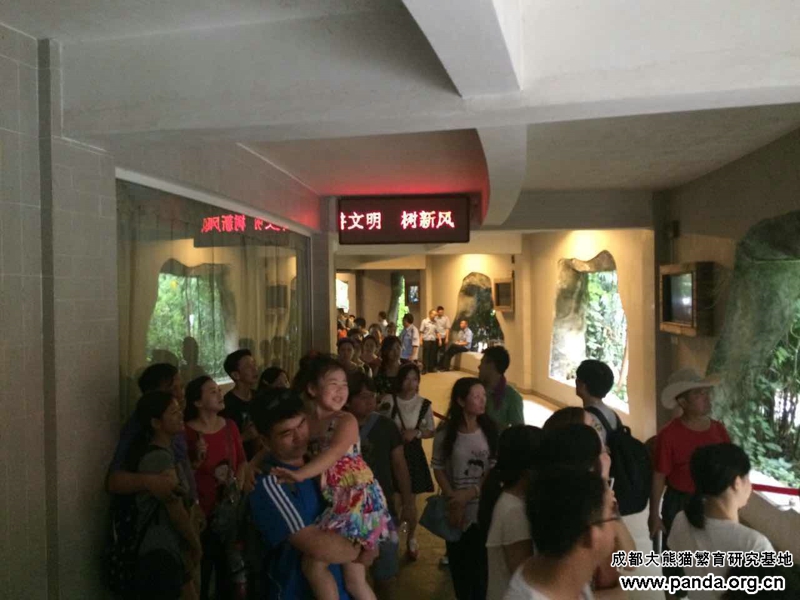 Visitors at the Giant Panda Nursery
"Pornography" helps the female panda become a mother
In 2013, two news photos taken by Chengdu Research Base of Giant Panda Breeding were among "Most Surprising Photos of 2013" selected by the Times, the most influential magazine in USA. One of them shows a giant panda watching "panda mating video", and this young giant panda is Kelin.
Kelin was born in a famous family. Her mother is the widely known panda "Jiaozi" and her father is the legendary panda "Kobe", named by Samaranch, the former president of International Olympic Committee. Kelin was 5 years old and had her first estrus in 2013. Though she was old enough to mate, she refused to do so. To get her to understand the mating process, the staff set up a TV and played a video of pandas mating. Watching the video, Kelin was confused but curious, keeping her eyes on the TV all the time. After watching the video, the staff arranged another meeting for Kelin and her mate "Yongyong",; surprisingly, Kelin, who always refused Yongyong in the past, accepted and successfully mated with him. However, Yongyong's love failed to get Kelin pregnant.
In the spring 2014, Kelin went on another blind date. When summer arrived, Kelin ate a lot and showed no signs of pregnancy. It seemed that Kelin was not ready to be a mother.
On January 2015, Kelin was artificially inseminated by experts at our base. In the middle of May, Kelin began losing her appetite. Kelin, the world-famous maiden, finally had the chance to become a mother.
We were expecting a new life .
The panda changed from a maiden to a mother, embracing the miracle of life!
Mr. Huang Xiangming, an expert at Chengdu Research Base of Giant Panda Breeding and the head of Animal Management Department, stated that since this would be Kelin's first birth, there are various uncertainties about the pregnancy and the labor, and it is likely that Kelin's is a false pregnancy. Kelin did not lose her appetite till the end of May, and pregnancy was still not obvious. Her appetite for bamboo was reduced for 29 days and for steamed corn bread 9 days. The experts and the breeder at Chengdu Research Base of Giant Panda Breeding nervously expected the arrival of new life. On June 21, Kelin became restless and anxious. At 3 a.m on June 22, Kelin showed signs of labor, and at a.m. 05:10, Kelin gave birth to a pair of twins, the first in the world in 2015.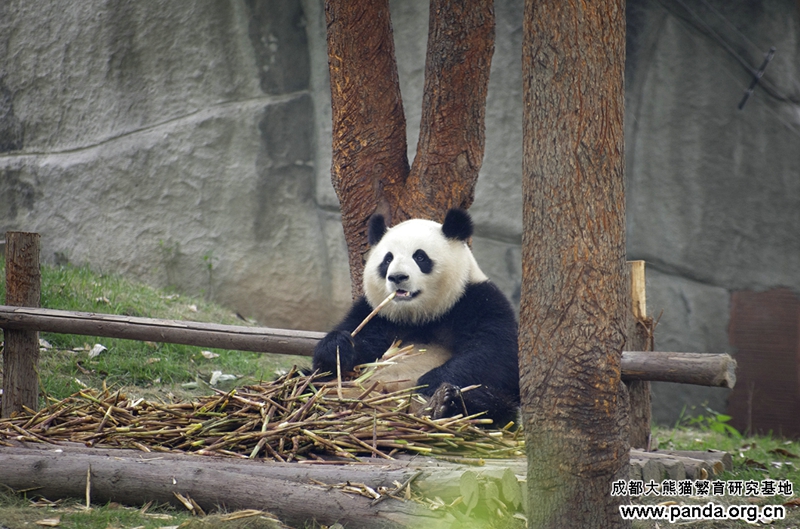 Giant panda Kelin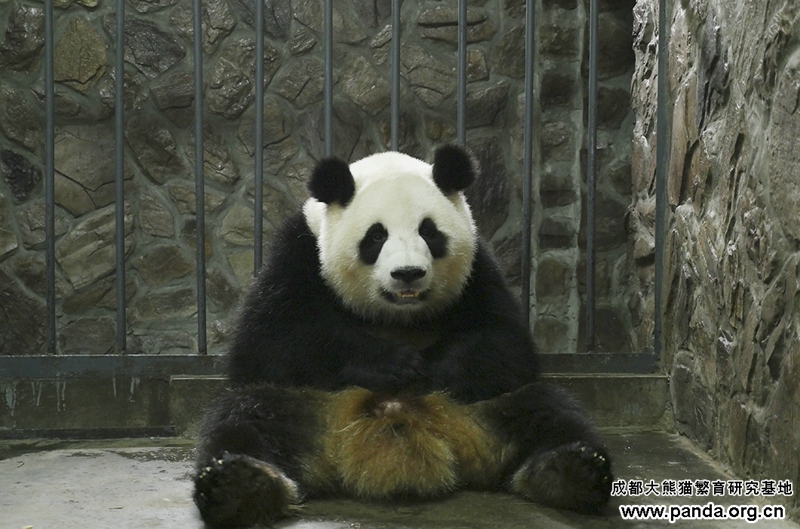 Giant panda Kelin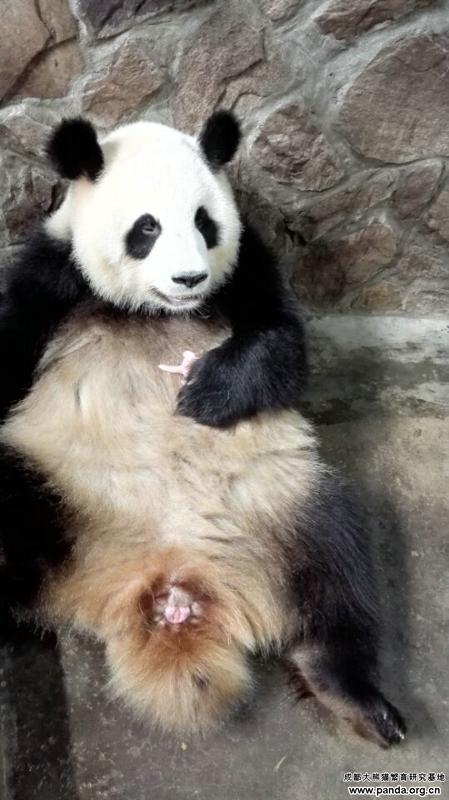 Giant panda Kelin and one of the cubs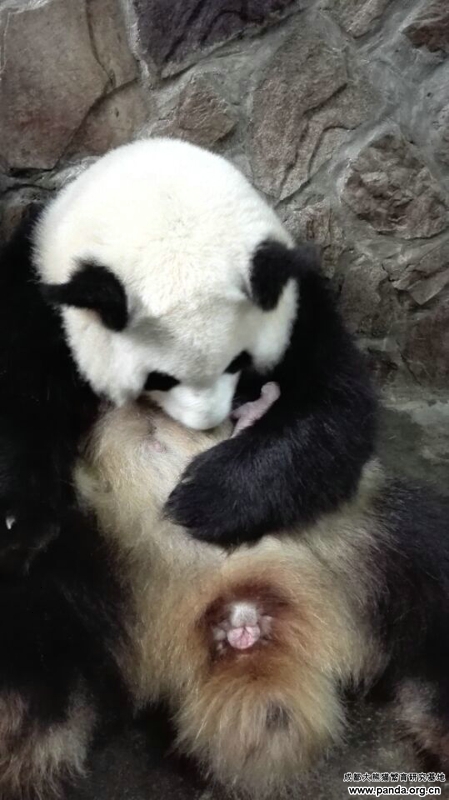 Giant panda Kelin and one of the cubs