Between 08:13 and 08:44 am on June 30, 2014, Chengdu giant panda "Yaxing" gave birth to two baby pandas. "Yaxing" has given birth to a total of three surviving baby pandas in two deliveries. These are the first two pandas born in Chengdu during the Year of the Horse. The number of giant pandas at the Chengdu Giant Panda Breeding Research Base has reached 129, making it the world's largest population of captive giant pandas.
On February 22, 2014, panda "Yaxing" mated with "Yongyong" three times. On June 1, 2014, "Yaxing" began eating a lot less food. On June 28, she began to lick her vulva and chew the wooden bed. At 08:00 am on June 30, "Yaxing" fell asleep after making two efforts to give birth. At 08:13, "Yaxing" gave birth to a baby panda after her membrane ruptured, and then continued to lick her vulva. The Base experts checked and identified this baby panda as a female, which has sound physical signs and weighs 146 grams. At 8:44, "Yaxing" successfully gave birth to the second baby panda, which was identified as a male by the panda experts and breeders. This baby panda also has sound physical signs and weighs 117 grams.
It was learned from the panda experts at the Base that the birthing behavior of "Yaxing" is somewhat different than that of other female pandas. "Yaxing" did not move around or make painful sounds before giving birth. She had very little amniotic fluid, and the birthing process was very short. At present, panda experts, breeders, veterinarians and other relevant staff at the Base are actively doing all they can to ensure the health of the two baby pandas and their mother "Yaxing".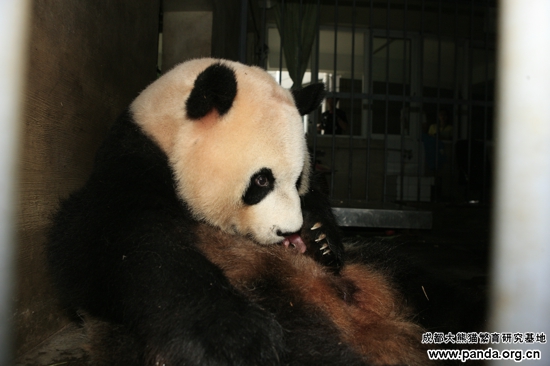 Panda "Yaxing" and her babies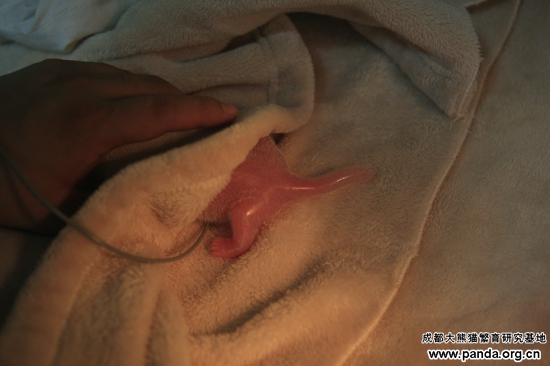 Newborn panda cubs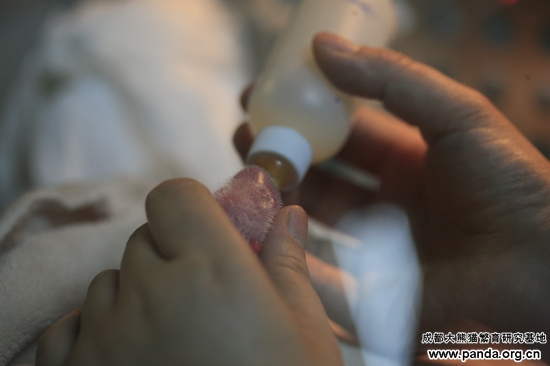 Staff at the Base assist in the feeding the newborn panda cubs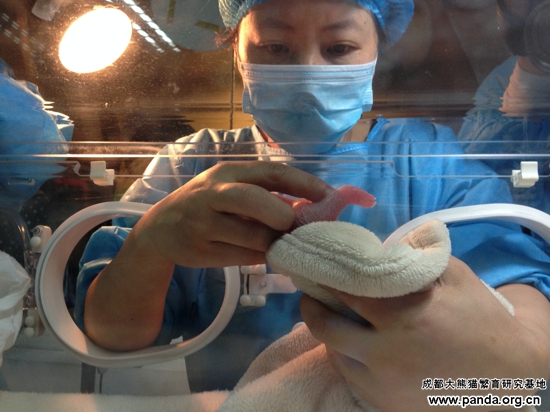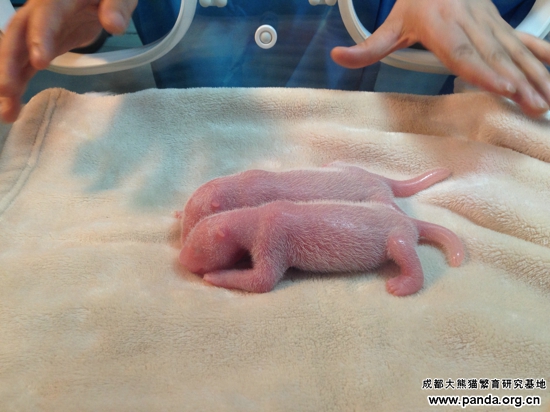 "Yaxing's" newborn twins