International Scientific Researches Cooperation Program
This program is committed to setting up a relevant cooperation and communication platform and jointly carrying out giant panda and rare and endangered animal breeding research, technical support and talent exchange cooperation with international research and development institutions. Since the commencement of this program, we have successfully established an extensive international research and development cooperation network, covering many foreign wildlife protection organizations and scientific research institutions, including long-term scientific research cooperation and exchange with the Protection and Breeding Specialist Group of International Union for Conservation of Nature (IUCN), Species Survival Commission (SSC), Conservation International (CI), AZA, North England Animal Association and United States Purdue University, University of Liverpool and Nihon University. These cooperation and exchanges play the role of tremendously pushing forward the development of cause of giant panda and rare and endangered animal protection.
◎ Breeding Cooperation
Participated in assisting the "giant panda long-term international cooperative breeding plan" via cooperative relationships with Japan, USA, Spain and France. Also we successfully conducted research in the fields of giant panda breeding, ethology and conservation education. Through our joint efforts,we have bred 15 giant pandas--the highest number of giant panda cubs in international breeding cooperation.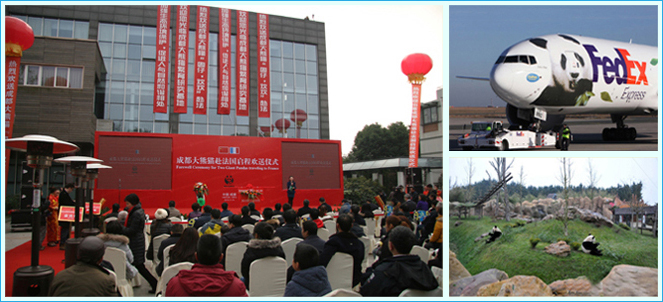 ◎ Funding and coordinating the giant panda protection-related international symposium – Annual Conference of Chinese Committee of Breeding Technique for Giant Pandas
Held joint discussion on giant panda protection strategy with giant panda experts from over ten countries including the United States, Japan and England , and shared giant panda research achievements together for the purpose of establishing an international platform of friendly exchange for giant panda protection.



◎ Organizing and holding program symposium and exchange conference
Held "Communication Agreement Signing Conference between Chengdu Research Base of Giant Panda Breeding and Nihon University" with Nihon University. At that time a professor from Nihon University delivered an academic report and signed "Academic Exchange Agreement between Chengdu Research Base of Giant Panda Breeding and Nihon University" with Chengdu Research Base of Giant Panda Breeding.
Carried out cooperative program of "Giant Panda Lacto-protein Analysis and Co-Development & Research on Synthetic Milk" with the University of Glasgow.


◎ Co-development on technical-support related program
Conducted functional water research program with Japan OSG Co., experts were sent from Japan to the panda base to have the machine and equipment repaired and provide systematic training to equipment users.
Carried out "red panda biomedical examination" with the United States Smithsonian Conservation Biology Institute.